Article is more than five years old and has been archived and cannot be amended.
Estonian football club funds new stadium by selling it online 1 square meter at a time
Estonian top flight football club Tartu JK Tammeka started the country's biggest sports crowdfunding campaign to renovate a Soviet-style stadium. The campaign lets every backer buy and name square meters of the soon-to-be-built artificial pitch with under-soil heating.
The campaign started locally back in November, but has now gone global. For this occasion the club has released a video inwhich the old stadium's pitiful conditions are presented by flare-waving Tammeka fans and young footballers, skiing on the grass, as well as comedian Louis Zezeran. The latter says every backer helps foster the growth of "future Messis and Ronaldos."
"At first we had only an Estonian website but a lot of people said the idea was so great we should share it with the world," explained Tammeka's crowdfunding campaign manager Kalle Paas. The international campaign is headlined by Zezeran, one of the most well known stand-up comedians in Estonia. "Louis is originally from Australia, and when he heard we wanted to go global in order to help football kids in Tartu, he readily agreed to help us out," Paas said.
Tartu JK Tammeka, a non-profit organization and the biggest football club in southern Estonia, started Sepa Football Centre crowdfunding campaign on November 2. The aim of the campaign is to crowdfund the final third of the 450,000-euro
budget required to renovate the old Sepa stadium.
The campaign allows everyone to buy symbolic square metres of the new artificial pitch that will replace the old field in spring 2016.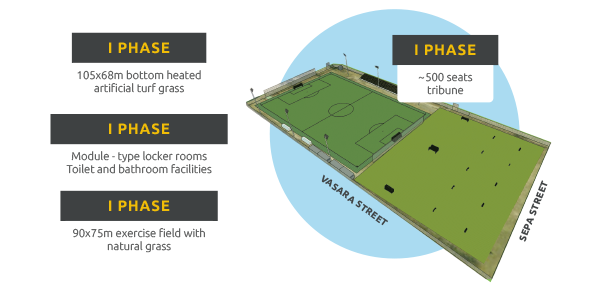 The new football pitch will be opened on July 7, 2016, with the biggest public screening of EURO 2016 final Estonia has ever seen.
Every backer will get a mention on the historical Hall of Fame at the new stadium and a ticket to the opening event.
The project already has more than 1,600 supporters and gathered more than 77,000 euros.
Editor: M. Oll